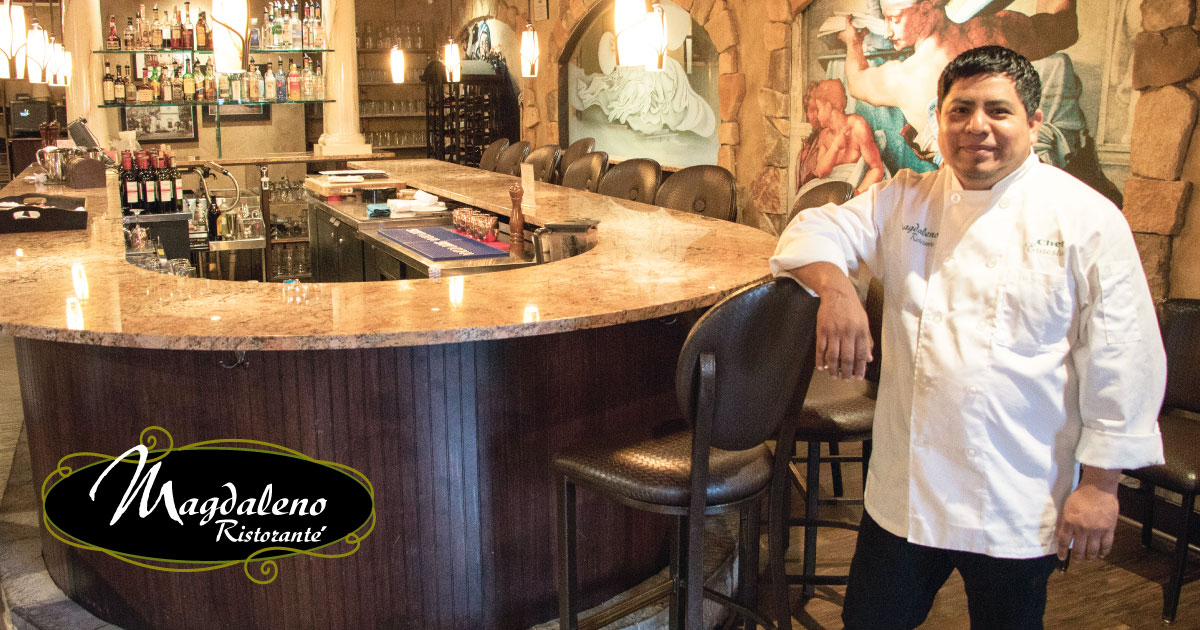 Tucked away just off the main drag of Biddle Avenue lies a veritable treasure trove of unique, fresh Italian food — better known as Magdaleno Ristorante.
The restaurant, at 152 Elm St., is headed by chef Ernesto Magdaleno Guzman, who, at 36, has been a chef for half his life. Magdaleno Guzman's passion for melding unique flavors and making fresh pasta, bread and more is directly reflected in his restaurant's menu. In fact the restaurant puts out three to four special entrees daily and is constantly updating its menu to reflect seasonality and creativity. Traditional items are not neglected, however. Those looking for Sicilian and Italian classics like lasagna, veal picatta and ravioli can find it at Magdaleno, and nearly every pasta is made in house, including the ravioli. Those with diet restrictions are not neglected, either, as there are gluten-free, vegetarian and vegan options.
Food is all incredibly fresh as Magdaleno Guzman shops daily to hand select ingredients, and he refuses to allow a microwave in his kitchen.
At the bar, an extensive Italian wine list with dozens of options, cocktails and domestic and Italian beers stand out.
Impeccable service is important at Magdaleno as well, as management has more than 30 years of combined fine dining and escoffier service, which they use to guide and train staff.
On-site and off-site catering also is offered as well as a private banquet room.
Magdaleno Guzman began his career in New York's Little Italy after a Sicilian restaurateur named Giuseppe "adopted" him as he had no sons and loved the fire, intensity and dedication that he saw in the young chef.
At 23, Magdaleno Guzman moved to Michigan, where he was offered positions at
Andiamo, Tiramisu and Dolce Vita. He chose to work at the renowned Bacco's in Southfield, where he was second-in-command to chef and owner Luciano Del Signore. Magdaleno Guzman honed his craft at Bacco's for eight years before he had saved funds to open his own kitchen.
Magdaleno Guzman began his foray in the local scene with his first restaurant in Lincoln Park.
Fate intervened when Michaelangelo's in Wyandotte closed, and Magdaleno Guzman decided to move his restaurant there in the summer of 2013. Michaelangelo's, although not associated with Magdaleno Ristorante, provided the perfect ambiance for Magdaleno Guzman's food, combined with a prime location in Wyandotte's downtown.
Magdaleno Ristorante is at 152 Elm St. The business is open 11 a.m. to 9 p.m. Tuesdays through Thursdays; 11 a.m. to 10 p.m. Fridays; 3 p.m. to 10 p.m. Saturdays; and 10:30 a.m. to 8 p.m. Sundays with a Family Style Brunch Service from 10:30 a.m. to 2:30 p.m. Reservations are recommended for brunch.
For more information call the business at 734-283-8200.